Faculty and Staff Biography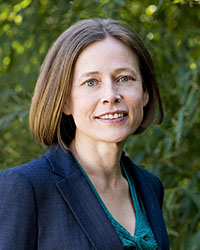 Laura Sheble
Assistant Professor
300.14 Purdy
313-577-3762
Recent publications
Southwell, B.G., Thorson, E.A., & Sheble, L. (Eds.). (2018). Misinformation and mass audiences. In A.P. Dillon (Series Ed.), Information. Austin, TX: University of Texas Press. Amazon
Southwell, B.G., Thorson, E.A., & Sheble, L. (2017, Nov/Dec). The persistence and peril of misinformation. American Scientist, 105, 372. http://doi.org/10.1511/2017.105.6.372. (Adapted from the Introduction to Misinformation and Mass Audiences). https://www.americanscientist.org/article/the-persistence-and-peril-of-misinformation
Sheble, L. (2018). Misinformation and science: Emergence, diffusion, and persistence. In B.G. Southwell, E.A. Thorson, & L. Sheble (Eds.), Misinformation and mass audiences. University of Texas Press.
Sheble, L. (2017). Macro-level diffusion of a methodological knowledge innovation: Research Synthesis Methods, 1972-2011. Journal of the Association for Information Science & Technology, 68(7). 2693–2708. https://doi.org/10.1002/asi.23864
Ribisl, K. M., Fernandez, M. E., Friedman, D.B., Hannon, P., Leeman, J., Moore, A., Olson, L., Ory, M., Risendal, B., Sheble, L., Taylor, V., Williams, R., & Weiner, B. J. (2017). Impact of the Cancer Prevention and Control Research Network: Accelerating the translation of research into practice. American Journal of Preventive Medicine, 52(3/S3), S233-S240. OA
Baron, J.S., Specht, A. Garnier, E., et al. (2017). Sustaining synthesis centers as critical research infrastructure. BioScience. doi:10.1093/biosci/bix053 Science Base
Research project
Misinformation: With co-editors Brian Southwell (RTI, Duke University, UNC, Chapel Hill) and Emily Thorson (Syracuse University), I have been finalizing Misinformation and Mass Audiences, a volume to appear in Andrew P. Dillon's Information series that will be published by the University of Texas Press in January 2018. Among the chapters, which were written by researchers in the health, environmental, political, communications, information, and behavioral sciences, is my own chapter on misinformation in science. An essay adapted from the introduction to our work recently appeared in American Scientist (https://www.americanscientist.org/article/the-persistence-and-peril-of-misinformation). In a distinct but topically related project, I am working with Rick Wesson of Support Intelligence to cultivate a theory that opens a new path to how we approach malware.
Health: I am working with researchers at the UNC Gillings School of Public Health to complete a systematic overview of system dynamics methods in health research, and a study of research bias in relation to Modified Risk Tobacco Products (MRTP). Through the Duke Network Analysis Center, where I am also a visiting research fellow, I am continuing work with Electronic Health Records.
Two recently completed projects in the biological sciences domain include one led by Dr. Stuart Borrett (UNC-Wilmington, Duke Network Analysis Center) that combines bibliometric, network, and review technicques to analyze and present recent Ecological Network Analysis (ENA) research, which is being submitted for review; and a second led by Dr. Jill Baron of the US Geological Survey's John Wesley Powell Center for Ecological Analysis and Synthesis, which was recently published in BioScience (available at Science Base).