Latasha and Juanika LaSalle, SIS Students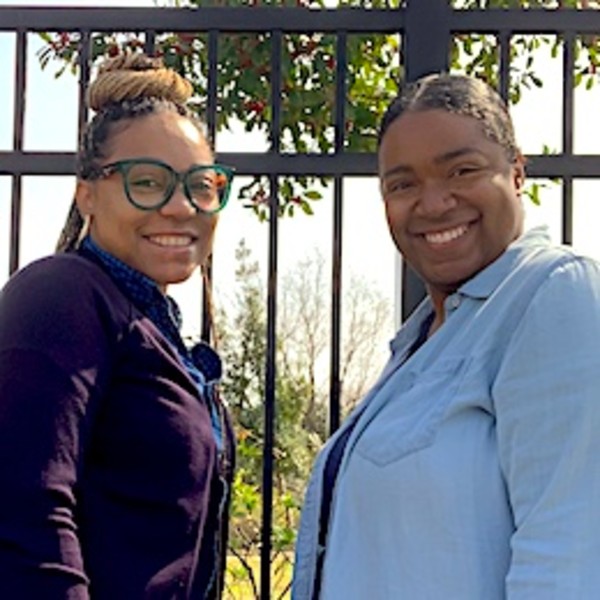 On a daily basis I see myself in my patrons. I see the trustworthy teenagers, the ambitious college students, and accomplished adults. I know this is where I'm supposed to be.
Sisters Latasha and Juanika LaSalle never expected their lives to follow the same path, especially when it came to higher education. Older sister Latasha showed an aptitude for numbers and computers and Juanika preferred research and working with people. No one could have predicted that they would end up not only working for the same library system, but that they also would both pursue master's degrees in library and information science from a school in a state that they had never even visited.
A high school diploma was the standard of success in their family as the sisters were growing up in New Orleans, Louisiana, but Latasha was determined to get a four-year degree. Her plans took a detour when she became a young mother to three children by the age of 25. She told her children, "education is the key to success." She wanted to prove to them that graduating from college was possible, so she went back to school and completed her degree, earning a Bachelor of Arts in Public Administration from the Southern University of New Orleans.
After witnessing her older sister achieving her goals, Juanika became inspired to pursue a Bachelor of Arts degree from Tulane University and they graduated less than a year apart.
The sisters' paths converged once more as both began MBA programs to advance their respective careers: Latasha as a human resources and accounting manager in the hotel tourism industry and Juanika as a paralegal in the local parish attorney's office.
Just as the women were settling into their careers, life (as it so often does) threw the sisters a series of curveballs. A combination of health, family and relationship struggles forced each of them, separately, to reevaluate their next steps and determine what path would lead them to their true passions.
"Going to the library saved my life," Juanika said. "I would go to my local library every day looking for work and reading motivational books to keep me going. A few months later I started working for the library." She has now worked as a library associate at the Jefferson Parish Library for more than seven years. "On a daily basis I see myself in my patrons," she said. "I see the trustworthy teenagers, the ambitious college students, and accomplished adults. I know this is where I'm supposed to be."
Latasha also struggled to find true happiness in her career. "At work the thing I loved about my job was researching why something happened or correcting discrepancy findings on financial reports. Also engaging with new employees, making them feel welcomed and advocating for employee rights," she said. "I realized that motivating others, researching information and reading was where my passion resided."
With some encouragement from her sister, Latasha took the leap of starting a new career and began working as a teen library associate at a regional branch of the Jefferson Parish Library in 2018. Latasha joked that Juanika was the reason she got the job because their employers already loved her so much. "My first day on the job I knew this was where I belonged," Latasha said. "I feel motivated every day, always looking forward to helping individuals and encouraging young people to read."
With more than seven years of experience working at the library, Juanika was often asked by coworkers if she planned to get an MLIS degree. It could have been, perhaps, a bit of sibling rivalry that eventually encouraged her to apply. "Indirectly I think we always do kind of push each other," Latasha said with a laugh. After carefully evaluating online programs across the United States, the sisters discovered that Wayne State offered the diversity of classes they were looking for, providing opportunities to pursue work in a variety of library and information science fields. Both were accepted to Wayne State's program and began taking classes in 2020.
Upon completing the program Juanika hopes to become branch manager in her library system or work in a law library at a college or university while Latasha may gravitate toward positions in information technology.
"I hope to be able to give motivation to other individuals to help them remember that it's never too late to pursue your passion," Latasha said. "The pursuit of happiness is the ultimate motivator."