Master of Science in Information Management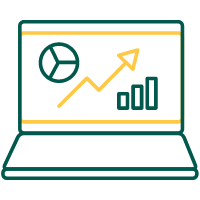 Are you interested in the intersection of people, data and technology? Today, information is a crucial resource for employees in all industries.
The Master of Science in Information Management (MSIM) at the Wayne State University School of Information Sciences will prepare students to be successful in data-intensive and user-centric environments in the information technology industry.
"There isn't an organization today that doesn't depend on information as an important strategic resource. And that is only going to increase as we move into the future, so the more information literate you are, the more marketable you will be for organizations throughout your entire career." – Professor Stephen Bajjaly
We prepare students to support data-driven problem solving and decision making in diverse fields.
In the growing field of Information Management, there is a need for professionals who understand complex social and organizational issues. Information managers work in all industries at the intersection of people, technology, processes and data that enable our data-driven society to function. 
"I specialized in data analytics because I wanted to use my archival background, but work in a growing field that would have more career opportunities. As an archivist, I worked with historic records. I wanted to shift my focus to current and future trends in information management. SIS has a great deal to offer data analytics students. The program encourages team work and communication." –
Alumna
Paula Montgomery
, Research Consultant at the Michigan Manufacturing Technology Center
Requirements & Practicum
---
The 30-credit (10 course) MSIM degree includes 5 required courses (4 courses plus a capstone practicum) and 5 elective courses, organized into a variety of specializations. Students are free to combine elective courses from the various specializations to craft a customized Plan of Work that satisfies the student's particular needs.
Students are required to complete a practicum – a 3-credit class that integrates students' classroom learning with real-world work experience. A practicum coordinator places students with a relevant host institution under the direction of an information management professional.
Our program is offered completely online and is ideal for working professionals.

Specializations
---
Web-based Information Services – Explore a variety of tools and online solutions that bring people and information together.
Heath Informatics and Data Management – Contribute to and support teams in healthcare, teaching, research, policy development, management and scientific transformation.
Data Analytics – Work with large data sets to uncover insights that drive decision making.
User Experience – Understand users of online communities and digital media to design or improve online services for their organizations.

Learning Outcomes
---
Through core classes and a variety of specializations, students will develop the skills necessary to assess, adopt and utilize information
technologies to obtain insights and develop positive user experiences.
Our students learn how to:
Utilize and assess technologies for the creation, production, manipulation, modeling, mining, analysis, control, distribution, access and use of information.
Leverage databases and datasets to uncover and present insights that drive decision-making.
Apply principles and methods towards assessing and designing information services and products for better user experiences.
Analyze how information policies affect information creation, production, control, protection, distribution, access, use and evaluation in different socio-technical contexts.
Develop independent learning skills and appreciate the need for lifelong learning of information technologies.
 
Career Paths
---
Information managers use leading-edge technology solutions, oversee people and processes, and manage large datasets to support
data-driven decision making in all types of businesses, including government agencies and nonprofit organizations. 
Information managers act as data stewards to ensure that information is accurate, current, complete and secure. 
Potential Jobs:

"I would recommend a career in information management because it represents the foundation of our modern economy. Wherever you look, information is something that is key to everything that we do now." –
Alumnus
Daren Hubbard
, Vice President for Information Technology at the Georgia Institute of Technology

Want More Information?
---
Thank you for your interest in the School of Information Sciences. We would like to provide you with a Prospective Student Packet that contains useful information about our academic programs and career opportunities in the information profession. 
Please complete this form to receive an information packet by mail as well as a link to download the digital version.
Loading...
Attend one of our virtual information sessions or contact the School of Information Sciences at asksis@wayne.edu if you have additional questions about the program.