Alumnus Dave Moore is the Archive and Digital Asset Manager for Carhartt
Even for a company steeped in more than 130 years of history, the stars may need to align for archives to become a top priority. That was the case for Detroit-based Carhartt in 2014, when School of Information Sciences alumnus Dave Moore was appointed resident archivist and a member the team that developed the company's first official archive.
The company dates back to 1889 when founder Hamilton Carhartt began sewing sturdy overalls in a small Detroit loft for railroad workers. To perfect the design, Carhartt spoke directly with workers to see what features were important to them. By 1917 the company was thriving with mills and sewing facilities across the U.S. as well as Canada and Europe, and had begun selling the Carhartt Chore Coat, which would become one of the company's most iconic and enduring pieces.
"Carhartt's founder was a champion of worker's rights," said Moore, who is now the Archive and Digital Asset Manager for the company. "Our principles are very tied to the history of the company. We operate globally, but we go above and beyond to make sure we are still operating under the same principles as Hamilton Carhartt."
According to Moore, who was working as an archival consultant for the company at the time, Carhartt's 125th anniversary became a catalyst for the development of a more formal archive.
Cheryl Poloni, Moore's mentor and the archive project lead said, "I think it's a reflection of our humble and hardworking culture that we held onto these treasures for so long but didn't take the time to formalize an archive. As much as we respect our past, we've always been a forward-looking company. We continue to do what we do – make great products for workers. The 125th anniversary in 2014 really drove home the value of being able to easily access those elements of our past that inform who we are today."
After graduating in 2008 with a teaching degree from the University of Michigan Moore struggled to find a job, so he decided to pursue a master's degree in history from Wayne State's College of Liberal Arts and Sciences and a graduate certificate in archival administration from the School of Information Sciences.
"As I got into the program, archives became the focus," he said. "I ended up where I was supposed to be. It took both luck and putting myself in the right position and buckling down to get there."
Through his courses in the SIS program, Moore was introduced to the world of corporate archives. The business side of the field appealed to Moore because it offers opportunities to come up with creative ways to use a company's history in public-facing ways.
"When you're establishing a corporate archive, you need to keep everything, not just the history. We're always making history," he said. "You are using the tools of today to tackle the problems of yesterday."
While Moore's job includes traditional archival tasks including collecting, processing and digitizing, he also sits in on meetings about new product lines. His insights about what the company has done in the past help inform decisions about elements that can be used in current products like retro hardware or old logos to feature on graphic t-shirts.
Moore also helped to create the Carhartt Workshop on the second floor of the company's flagship Detroit store. The workshop is a unique space that will provide multi-media community rooms that are available to local organizations and individuals to rent for free as well as tools that are available to borrow for up to two weeks. The space will include displays that connect the history of the company to today and how the evolution of the products has been driven by the needs of the customers and the community.
"We're really excited to be able to introduce this community space," Moore said. "It really showcases Carhartt's drive to connect with the people of the city. We've been in Detroit since the 1880s and we wear our Detroit pride on our sleeve."
Moore relishes sharing his love of history and his knowledge of archives with current students. He established the archival internship program at Carhartt and is overseeing his 12th intern this summer.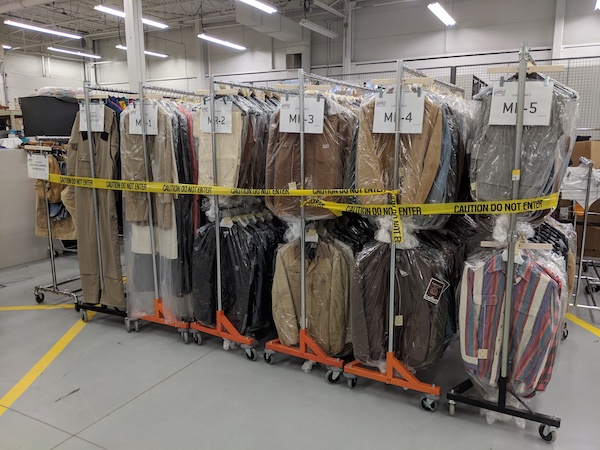 "It's been amazing. The interns blow me away and I love working with them," he said. "They're so hungry to get real-world experience. The fast-paced world of business archives is really exciting. We wouldn't be where we are today without our interns."
SIS graduate Allie Penn completed an internship with Moore in 2018. "Dave is an incredible mentor. He is a very strong supporter and advocate for his interns," she said. "He really views the internship not only as something to help the Carhartt collection, but also how he can help you learn and achieve to make you a better archivist and information professional."
In addition to having the opportunity to publish findings from her work on Carhartt's website, a highlight of Penn's internship was assisting Moore in moving the archive to a temporary location in preparation for the archive's new custom-built, climate-controlled permanent home at the company's global headquarters in Dearborn, Michigan.
Moore hopes to continue to advocate for his students and for the profession, especially business archives. "The best program to give you experience in the field is one that represents all sides of it," he said. "As part of a company, I think it's really exciting how the archive fits into everything else and how dynamic it can be."