Recent graduate Ginny Schneider receives the Patricia B. Knapp Award
You never know when your words might impact a person's life and career trajectory, but that's exactly what happened when Ginny Schneider read a speech by Wayne State University School of Information Sciences (SIS) alumna Kathleen D. Roe, who was then director of operations at the New York State Archives and president of the Society of American Archivists.
After receiving a bachelor's from Kendall College of Art and Design and working in interior design for six years, Schneider wanted to "see what else was out there." A friend encouraged her to consider user design and Schneider applied for and received a job at Detroit Labs, a design and technology company, where she fell in love with the research aspect of the job and trying to figure out why people use things the way they do.
Schneider wanted to further develop those skills while also being able to use her keen eye and project management expertise. While deciding which university program would be the best fit, she came across Roe's 2015 SAA presidential address "Why Archives?" which inspired her to pursue a master of library and information science and a graduate certificate in archival administration from Roe's alma mater — Wayne State.
Schneider went all in, participating in a number of programs that provided hands-on experience while expanding her personal and professional skills.
"I thought, 'I can take this set of skills that I have and apply them to institutions of value that I identify with,'" she said. "Why not volunteer with communities who are doing the work I admire?"
Schneider completed internships at the Lathrup Village Historical Society, Troy Historic Village and New York's Fashion Institute of Technology. She also was selected to participate in the SIS archival program's Alternative Spring Break at the Herbert Hoover Presidential Library and Museum in West Branch, Iowa, which was sadly cut short due to COVID-19-related shutdowns in March 2020.
An experience that Schneider found particularly inspiring was working as a graduate student assistant researcher on the grant-funded project "Community Health and Wellness: Small and Rural Public Library Practices, Perspectives and Programs" with SIS Assistant Professor Christine D'Arpa.
The grant from the Institute of Museum and Library Services supported research on health and wellness programming at small and rural public libraries in Michigan, Vermont, Oklahoma and North Carolina, with the goal of learning how those institutions address health and wellness through public programs.
"I'm more interested in programming with libraries than I was originally," Schneider said. "I attribute that to Dr. D'Arpa and speaking with practitioners and conducting interviews with members of the community to address their needs while working on the grant."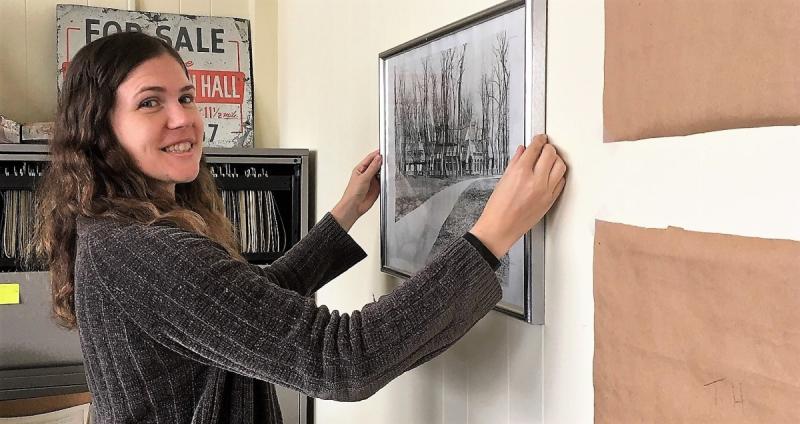 A practicum experience working as an assessment resource librarian at Grand Valley State University was another highlight of Schneider's time in the program. "My mentor gave me a crash course in user experience and how it relates to libraries," she said. "We did a focus group, analyzed results and presented our next steps. I got so much value out of that experience. Those were the best practices that helped me through my classes."
Schneider also maximized her Wayne State experience by becoming involved with several SIS student organizations. She worked with the school's chapter of the National Digital Stewardship Alliance (NDSA) on the Family Digital Preservation Project, a website resource that aims to help individuals preserve their digital content, and co-presented the group's findings at the NDSA's annual conference. Schneider is also a founding editor of The Information Warrior Journal, a peer-edited publication that nurtures and encourages students to publish their research papers and literature reviews.
After graduating in spring 2022, Schneider was awarded the 2022 Patricia B. Knapp Award, which is granted by SIS each year to a graduating MLIS student. The award was established in 1973 in memory of Professor Knapp in recognition of a graduating student who has demonstrated a high level of scholarship and shows promise of success in a career in library and information service.
"Ginny is well deserving of the Patricia B. Knapp Award for so many reasons. She carries herself with strong professionalism and treats everyone with respect. This demeanor made her an approachable and reliable colleague for class projects, student group work and practicum assignments," said SIS Practicum Coordinator Kim Schroeder. "Her inquisitive nature widened her world, and she gained a significant amount of experience within the program at a professional level."
Schneider encourages students to find creative ways to apply their skills and get involved. "You get out of the program what you put into it," she said. "My advice to any student would be to connect with an advisor who will sit down with you and help you get an overview on how to get involved. I really appreciated that assistance from the faculty at Wayne State."