SIS alumni receive Michigan's highest library honors
Wayne State School of Information Sciences alumni Kevin King, Kathy Lester and Sandra McCarthy, and student Betty Adams, were recognized at the Michigan Library Awards ceremony held virtually on October 29. The event was hosted by author and musician Wesley Stace and featured a special guest appearance by Governor Gretchen Whitmer.
The Michigan Library Awards are given annually and are considered the state's highest honors within the library community. The awards celebrate the excellence, accomplishments, dedication and service of library staff, trustees and supporters in the Michigan library community.
Three of the leading statewide library advocacy and service organizations - the Michigan Library Association (MLA), the Michigan Association for Media in Education (MAME), and the Michigan Academic Library Association (MiALA) collaborated to choose a diverse group of recipients.
"In the past, the three host organizations have worked independently, but this year, our united efforts have added a whole new dimension to showcasing exemplary library staff from all library types. We couldn't be prouder of the collaboration," said Deborah E. Mikula, Executive Director of the Michigan Library Association.
Each recipient was chosen through peer review for their outstanding achievements within each category.
Lifetime Achievement Award
Kevin King, head of community engagement at the Kalamazoo Public Library
The Lifetime Achievement Award recognizes a deserving librarian for their distinguished service to the library profession over the course of their career. Throughout their career, winners of the Lifetime Achievement Award have sustained a strong and consistent body of work, demonstrated leadership in their community and in the profession – mentoring and empowering library staff, providing innovative service to their community and enhancing the image and visibility of the library.
"These award recipients represent some of the most outstanding individuals in the Michigan library community," said Mikula. They promote collaboration among libraries and librarians and have been a catalyst in special areas such as intellectual freedom, library innovation, outreach, and equity, diversity and inclusion.
"Kevin King is one of my absolute heroes," said National Book Award Winner Jacqueline Woodson. "The work that he has done to bring the community and library together … the programming he's designed and his passion for both young people and their literature deserves all the praise! He deserves to be recognized for the way he has changed both Kalamazoo and the world."
---
Academic Librarian of the Year
Sandra C. McCarthy, professional faculty and librarian at Washtenaw Community College's Richard W. Bailey Library
This award recognizes the outstanding accomplishments of a librarian or library administrator and their contributions to their institution and academic libraries within the academic year 2019-2020.
"Sandra initiates change wherever she goes," said Darlene Johnson-Bignotti, a faculty library at Oakland Community College who announced McCarthy's award. "She is the volunteer administrator and co-founder of the Michigan Virtual Reference Collaborative, which has enabled its 15 member libraries of MiALA to seamlessly support students during the pandemic. And if that wasn't enough, during the Winter 2020 semester she completed a study of health sciences librarians' perceptions." Her findings will be published in a forthcoming issue of the Journal of the Medical Library Association.
---
Rising Star Award
Betty Adams, library director at the Leanna Hicks Public Library of Inkster
This award recognizes a librarian who shows leadership early in their career. While new to the profession, winners of this award are forward-thinking, expand the role of librarian and move libraries into the future.
"Over the past few years, I have witnessed Betty's desire to learn, engage, and contribute to the work she is responsible for," said Matthew Wisotsky, associate director of the Wayne State University Library System. "These traits continue to inspire her colleagues to do more as well, which makes for a stronger and more motivated workforce." Adams will graduate from Wayne State's School of Information Sciences in December 2020.
---
Citation of Excellence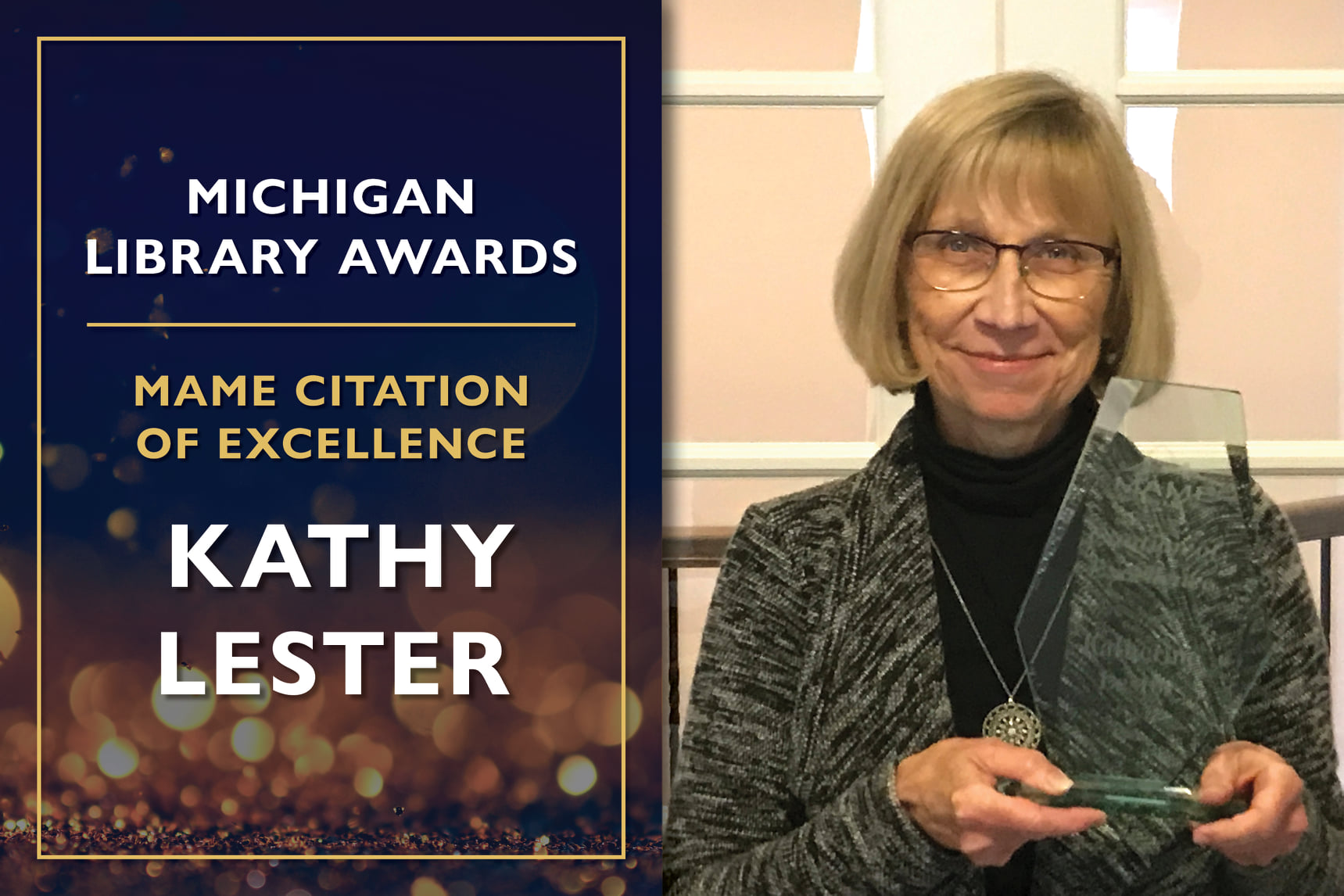 Kathy Lester, advocacy chair of the Michigan Association of Media in Education
The Citation of Excellence celebrates and honors those who have championed school libraries through volunteerism, administrative support and advocacy.
"Kathy has become a mover and shaker in the school library and technology world, a professional to follow, a friend to turn to for advice and assistance," said Lisa Brakel, one of Kathy's nominators and the District School Librarian at the Airport Community Schools in Carleton. "Through her statewide advocacy work over the past six years with the Michigan Association for Media in Education, she has become the voice for school librarians across the state."
Visit milibraries.org for more information about the Michigan Library Association. Click here for a complete list of Michigan Library Awards 2020 recipients.