Student Kendra Moyer has deep roots at Wayne State
School of Information Sciences student Kendra Moyer is an activist with deep roots at Wayne State and in the Detroit community. As she pursues a master's degree in library science, she is working to bring urban school libraries back to life for local children as a research assistant on Project RUSL: Restoring Urban School Libraries. She is not the first in her family to contribute time and dedication to making change on Wayne State's campus and beyond.
"I remember being a kid and my mother used to take me to Wayne State when she was in school," said Moyer. "I remember crawling around on the floor when I was 2 or 3 years old under the desk, and I remember her writing out my letters and teaching me how to read."
Moyer is the daughter of Wayne State alumni Edna E. Ewell Watson and John Watson, who have been recognized for their social justice efforts in collections at the university's Walter P. Reuther library.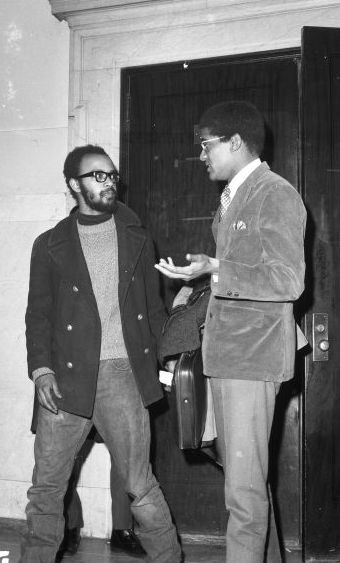 She recalled times at her childhood home, full of people meeting, planning and discussing activist tactics as her father, John Watson, co-created the League of Revolutionary Black Workers in the 1960s. Watson and the group felt that there should be a push of student activism in support of halting production at the automotive plants because, as Moyer pointed out, people had a higher chance of dying working at the auto plants than going to war in Vietnam. To push this activism further and to reach the masses, Watson became the first black editor of Wayne State's student newspaper The South End. With this collaborative movement, Watson and the League ended up accomplishing a labor strike at the Dodge plant that Moyer said has been recognized as one of the top ten labor actions in the world.
Moyer described her mother, Edna E. Ewell Watson, as being particular with politics and always keeping herself and her family well-informed. After graduating from Wayne State, Edna was a librarian at Eastern Michigan University until her retirement. She also contributed an introduction and a chapter to the book, Detroit, I Do Mind Dying: A Study in Urban Revolution that focuses on the labor movements in which Moyer's father took part.
On her own path of activism, Edna wrote an op-ed in 2005 in response to the political shift that came after the events of September 11, 2001, and the creation of the Patriot Act. In this op-ed, Edna stated that she would not share patron information with others under the Patriot Act because, "as a librarian it was her duty to protect the privacy of patrons." The piece was widely recognized and led to Edna receiving the title of Oxford Fellow.
Activism always had a place in the background of Moyer's life and influenced her to engage when she could, but when she began working with the "Occupy Boston" movement her activism gained a professional scope. She taught activist groups how to collaborate and correspond via the internet while maintaining anonymity and protecting their personal data. Around this time, Moyer also engaged in promoting internet and tech access to all by installing free software similar to Microsoft Office on computers that were then sent around the world.
Working with what she called "hacktivist" groups gave Moyer computer training and knowledge, which has led to her interests and work in information services. She said that getting her master's at SIS and working within libraries has allowed her to apply her technology skills in ways that give her an avenue to participate in activism she is interested in while earning a living.
Moyer finds it especially fulfilling to be in a profession that is helping dispel fake news. "I think libraries are at the forefront of the fake news phenomenon and sharing information, sorting out good information from the bad…providing access to good information and accurate information is a social justice issue," she said.
Being able to give patrons the research tools they need to help increase information literacy is a service Moyer is ready and eager to provide in her professional future. These interests paired with memories of her mother taking her to work and spending countless hours in libraries as a child, to later using library resources as an adult, has allowed Moyer to envision a future in the information profession.
Aside from libraries, Moyer's activism has taken many shapes over the years, from her work on pushing for the Detroit trash-incinerator shutdown (which took around 30 years!), to having her hands in environmentalist efforts by helping plant community gardens, to her most recent volunteering with Girls Rock Detroit. Moyer encourages people to participate in activism in any way they can. "Your activism may feel pointless at times… but if you can push society a little more forward, or have a basic impact, plant a seed in someone's mind, or even change someone's mind, you have made a contribution," she said.
The Walter P. Reuther Library, Archives of Labor and Urban Affairs at Wayne State University is the largest labor archives in North America. This collection contains archives of the Detroit Labor Movements, including specific material from the League of Revolutionary Black Workers, the very group John Watson helped create. The archives are available online to explore important documents surrounding revolutionary activity in Detroit during the late 1960s and 1970s.